Is the Nissan Rogue AWD?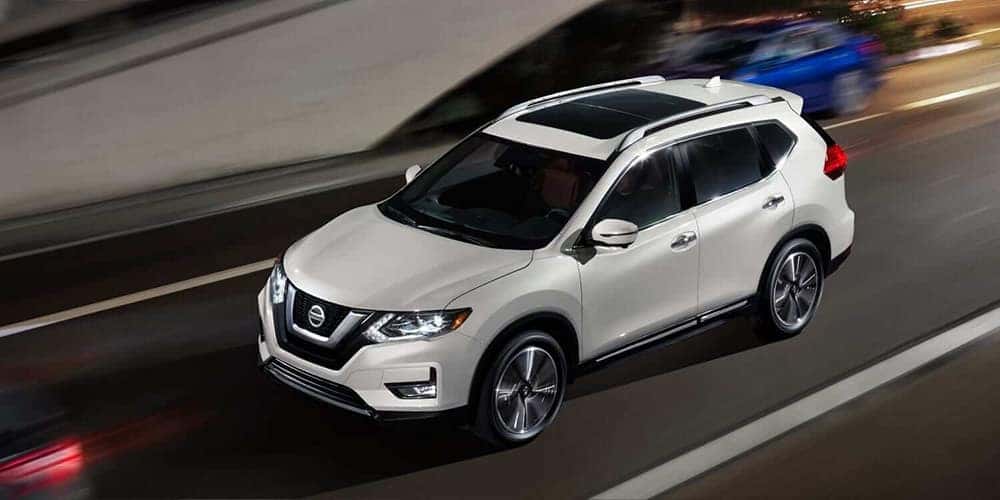 Is the Nissan Rogue AWD? The answer is yes! All-wheel drive gives Martinsville drivers improved traction and handling in tricky terrain, making it a great choice. The 2019 Nissan Rogue comes in all-wheel drive at every trim level so you don't have to worry about sacrificing anything. Learn more about Nissan Rogue AWD performance, capabilities, and reviews on the new Nissan Rogue with a little help from Gunter Nissan of Martinsville!
Nissan Rogue AWD Configurations and Trims
The Nissan Rogue comes with Intelligent AWD at every trim level:
Nissan Rogue S AWD
Nissan Rogue SV AWD
Nissan Rogue SV AWD Hybrid
Nissan Rogue SL AWD
Nissan Rogue SL Hybrid AWD
How Does Nissan Intelligent AWD Work?
Nissan Rogue Intelligent AWD is a state-of-the-art drivetrain that evenly disperses power to each wheel, making it handle well in every condition. The Nissan Rogue starts in AWD and continues to conserve power by redirecting torque to the front wheels when necessary. If you encounter slippery conditions on Reidsville, NC roads, the Intelligent AWD system can move power to any wheel to stabilize the Nissan SUV.
Nissan Rogue AWD Lock Button
The Nissan Rogue AWD Lock is a unique feature that gives you a low-speed regulator button that can ock all four wheels for improved traction in tough off-road conditions.
AWD Error on Nissan Rogue
The AWD error light might surprise you when it comes on; there can be a range of causes, all of which warrant a trip to the service center. Oil temperature is one common cause for the AWD error on a Nissan Rogue, and we recommend pulling over and letting the engine rest until the light turns off — even if the light does turn off, though, it's a good idea to have the Rogue checked out.
Experience Intelligent AWD in Person at Gunter Nissan of Martinsville
For more information on Nissan Intelligent AWD, take the trip from Reidsville, NC to Gunter Nissan of Martinsville! Be sure to contact us for more information. Be sure to check out other features like the Nissan Rogue vs. Nissan Murano comparison, Nissan Rogue interior features, or compare the Rogue to the Honda CR-V to learn more! We'd also love to help you learn why your car is overheating.
The 2020 Nissan Pathfinder towing capacity reaches up to 6,000 pounds, setting the standard when it comes to fun and functional SUVs for your Martinsville driving pleasure. The 2020 Pathfinder is equipped with a high performance engine that can power through just about anything you throw at it, with a payload capacity and maximum towing…

There are seven 2020 Nissan Altima trim levels and packages to choose from. Each of the unique Altima models offers a wide range of performance, technology, and interior comfort features that are sure to make your drives through Martinsville and your road trips better than before. With each Altima package level bringing a new set…

When you're looking for a new SUV or crossover to handle your everyday adventures through Martinsville, there's no question you'll be satisfied with the 2020 Nissan Murano. But just which of the four available Murano trim levels is best for your everyday adventures? Our team at Gunter Nissan of Martinsville will help you find your favorite Nissan Murano…