What to Do When Your Check-Engine Light Goes on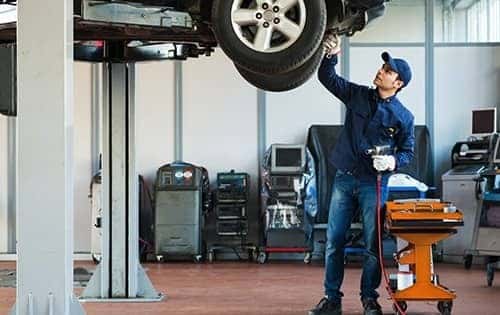 If you're on your way back from dining in Martinsville on a Danville road and your check engine light suddenly comes on, there are a few things you should do right away:
Stop driving.
Don't panic.
Read this guide.
Find out what your check engine light could be telling you along with some troubleshooting you can do before bringing your vehicle into Gunter Nissan of Martinsville's service department for help.
Why Your Check Engine Light Might Be On
There are a number of common reasons that you might have your check engine light on, including:
Reason
What Could Happen if You Don't Get Service
Oxygen sensor replacement warning

Lower fuel economy
Spark plug and catalytic converter damage

Loose, damaged, or no gas cap
Airflow sensor replacement warning

Won't pass emission test
Worse performance and efficiency

Catalytic converter replacement warning

Damage to catalytic converter, oxygen sensors, spark plugs, etc.
Worse performance and efficiency

Spark plug replacement warning

Worse performance and efficiency
Damage to plugs, catalytic converter, oxygen sensors, ignition coils
What You Can Do to Troubleshoot
One of the most common reasons the check engine light comes on is a failure to tighten the gas cap well enough, so that's the first thing you should check. If you're a good DIY handyperson, then you might be able to take care of some of the other parts replacements, but otherwise it's a good idea to bring it to a pro.
Bring Your Car in For Service Near Reidsville, NC
It your check engine light has turned on recently, bring your car in for service at Gunter Nissan of Martinsville, where we have a full team of factory-trained and certified Nissan technicians who can run diagnostics tests, handle repairs, and get your car running again in no time.
Schedule your service online, or simply visit our service center during our regular hours. Take advantage of the Nissan Lifetime Warranty to keep your car running, and find out more Nissan ownership tips, like how to change the Nissan key fob battery, open a Nissan with a dead key fob, or how often you should change your oil!
Recent News From Gunter Nissan of Martinsville
Fresh off a recent redesign, the 2021 Nissan Versa offers a suite of new entertainment and performance features for Reidsville, NC drivers to enjoy. The Nissan Versa comes with a host of interior technology, comfort, and more, allowing drivers to enjoy their Martinsville commutes to the fullest. And you'll be excited to learn that the Nissan…

When you're driving in the 2021 Nissan Rogue, you're getting the best of style and substance for your drives in Martinsville. When you're looking for an SUV that perfectly suits your family's needs, you don't need to sacrifice a good look to get the power and features you want when you pick the Nissan. Can…

New Versa InventoryContact Us Are you looking for an efficient and convenient sedan to take on your daily Martinsville drives? If so, there's no doubt that the Nissan Versa gas mileage is sure to impress. But what is the Nissan Versa gas mileage? When properly equipped, the Nissan Versa delivers an impressive 32 mpg city/40…